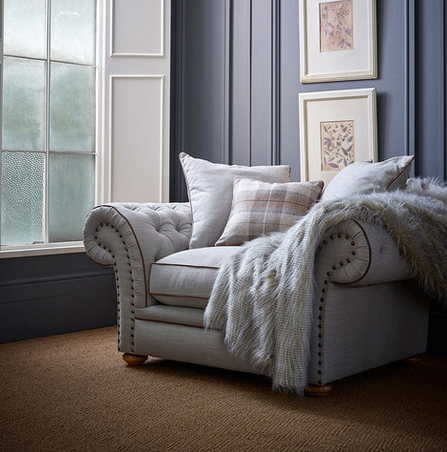 For years the default colour for walls was magnolia. There is simply no going wrong with this neutral colour, a shade darker than white but not really a commitment to a colour either. Magnolia is a warm shade of beige with a hint of vanilla. A colour that goes with everything, or doesn't it?
Why not venture off into the unknown and get a few colour charts from companies like Little Greene, Fired Earth or Farrow & Ball? These companies all have one thing in common – besides exciting names for their paint, such as "Dead Salmon" or "Elephant's Breath" – they have an array of unusual colours to choose from. Little Green also offers paints that are truly authenticated historical paint colours in association with English Heritage. Researched and developed by historian Patrick Baty, Little Greene's "Colours of England" collection offers a spectrum of 60 period shades from Georgian to post-war. They include Shrimp and Orange Aurora from the 1950s, Middle Brown - a British Standard paint colour of the 1930s- and, from the Regency palette, Blue Verditer - an English colour found during analysis of the entrance hall of Kenwood House, London.
But what it boils down to, is do you like the colour? And if you don't, it's not exactly a disaster. Even at the high end of the price spectrum, it's still the cheapest way to introduce colour into the home.
Fashion plays a big part in our colour choice. For three years of the 1990s, Farrow & Ball's best-selling colour was Sudbury Yellow. Now, replaced by a more popular blue-green palette, it doesn't even feature in its top 30. Reds sell better in the winter, and yellow is predicted to make a comeback.
Before you start splashing grey on the walls or buying grey furniture, make sure you choose the right shade of grey. There are three common colour undertones that can appear in grey. These are purple, green and blue. Grey that has a green undertone is usually more neutral. Such grey shades blend with many different colours as well as wood furniture.
Blue-based greys are popular choices for many people because they are bolder. They work well with bright colours such as yellow or red, as well as warm textures like wood and brass or bronze. These colour and texture touches prevent the blue-grey from creating a cold colour tone.
Have a look at our pinterest board 'grey is the new black' for some inspirational pictures – and don't be scared to try out a new shade when you next renovate a room.