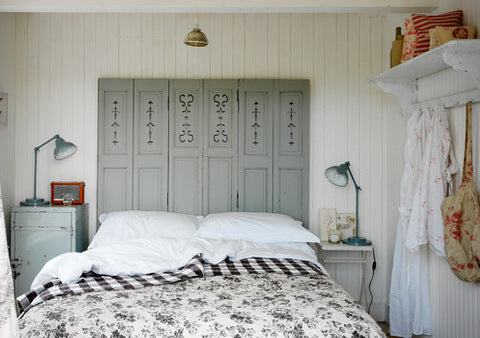 Authentic vintage revival bedroom ideas
Bedrooms of old were completely cut off from the world, with no Twitter or Netflix, MP3 players, tablets, TVs, or telephones. They were lovingly created from easy-to-obtain materials, handmade accessories and family heirlooms. Crucially, they were unique.
Here's a few ideas and suggestions.
Modern LED and spot lighting will kill the mood in the vintage bedroom. Instead, you want a single overhead light dressed, as here, with a simple shade, and a couple of table lamps either side of the bed to throw gentle pools of light over the room.
We have a great selection of pendant lighting and table lamps.
As if left by the maid ready for a bedroom's occupant to wear the next day, every vintage-style sleep space should have a favourite garment strung over the bedpost, draped over an old tailor's dummy or hooked over the wardrobe door.

You could even opt to store all your clothes on a vintage clothes rail for a full-on, glamorous, 1950s dressing room look.
We currently have this style of chandelier in store and online as well the table lamps, flora and mirrored bedsides - we'd love to see you in store and of course visit online anytime.