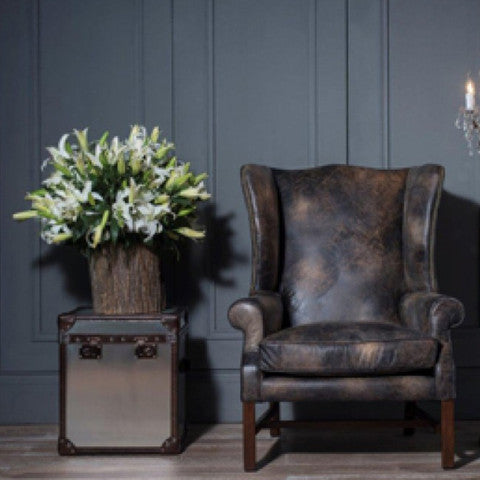 Think carefully about your choice of armchair...
An armchair can have a big impact on the feel of a room: it can bolster seating options in the lounge, shake up a neutral dining room or act as an accent piece in the spare room. Whatever its use, you'll find a wide variety of armchairs to choose from including tub chairs, club chairs, wingback chairs and occasional chairs, as well as recliner chairs with ottomans. When shopping, keep in mind your desired style, size and budget to help you narrow down your search. An armchair is an investment piece so take your time and choose wisely.
How big should my armchair or recliner chair be?
This depends on where you plan to put it. Determining the size is all about understanding scale: if the destination is a spacious living room, a larger armchair or recliner chair with ottoman will work; if it's going into a guest bedroom, consider one of smaller stature – tub chairs and rattan chairs are compact wonders. Keep in mind the other furnishings in the room so that the size of your armchair works with them, not against them.
Which style and colour of armchair will work for me?
Think about your room's current design scheme and the core purpose of your new purchase. Do you want the armchair to be a design focal point at special gatherings? Then how about a wingback chair or wingback with exposed wood and less padding, upholstered in a vibrant velvet. Alternatively, try something with a vintage air and stately feel such as a Chesterfield armchair in a tobacco shade. If are you longing for somewhere soothing to sink into with a glass of wine at the end of a long day, choose a light and lived-in armchair that spoils you with comfort. Look out for luxurious feather and down cushions with a coil-sprung seat platform, for example.
What's the best upholstery for my armchair?
Do you want to your armchair to blend in or stand out from the rest of the room? Colour will help you to fine-tune the level of coordination but material and texture are also crucial. Add a little twist of character by incorporating contrasts in features such as the studs, piping and legs. If you are looking for a more daring combination, then experiment with patterns such as houndstooth and patchwork inspired by a flicker of colour elsewhere in the room.
What about footstools?
Footstools are great for kicking back and work well if your armchair is going to be the centrepiece of a large lounge or TV room. If it's more formal, a footstool may seem out of place. You also need to consider space: is there enough room to kick out a recliner footstool?
Remember: if you're dying for a footstool but your beloved armchair doesn't have one, an ottoman works just as well. Make sure its height matches that of the armchair's seating platform to maximise comfort.
Shop well...